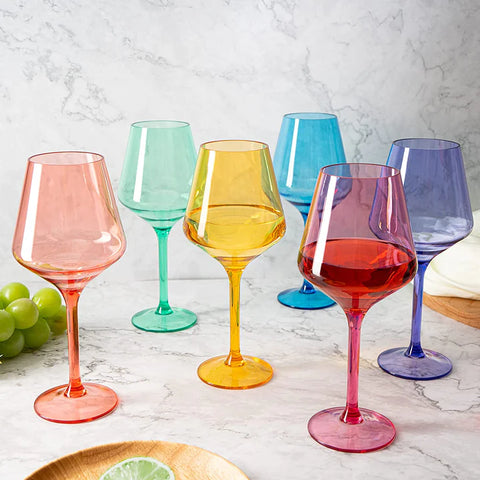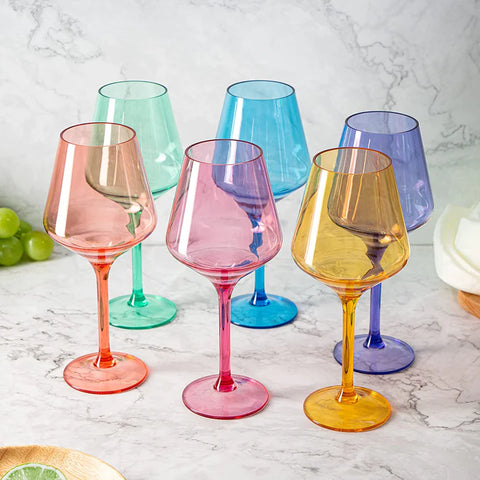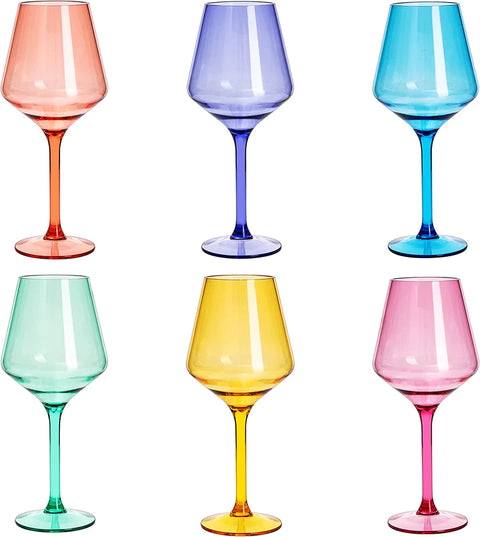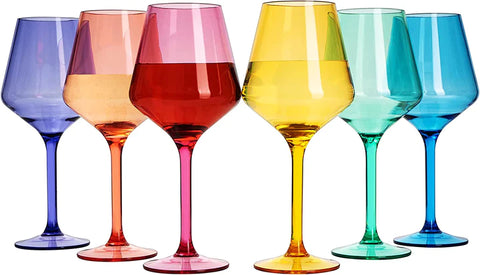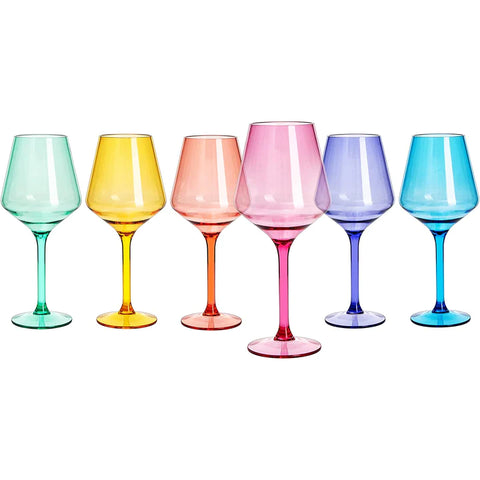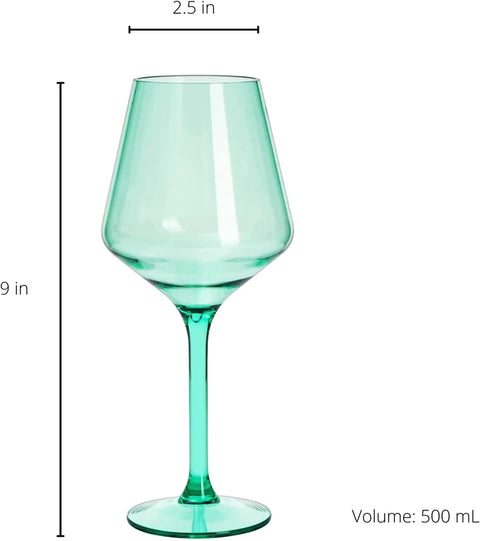 Unbreakable Colored Stemmed Wine Glasses
Keep your drink cold and classy with these Plastic Colored Wine Glasses Set. Designed for indoor and outdoor use, these colored plastic wine glasses are perfect for serving your favorite alcoholic beverage in style. Reusable and shatterproof, these plastic glasses won't break when dropped. Each glass holds 15 ounces of wine or other beverages for festive occasions at home, weddings, outdoor celebrations, or anywhere you need a sturdy yet elegant drinking glass

A set of six gorgeous wine glasses each in their own color. These plastic wine glasses will be perfect for both indoor and outdoor occasions like pool parties, weddings, birthdays, home decor, and many more. Whether you want to use them at home or a picnic with your friends, it makes an amazing gift too! You no longer need to worry about breaking them because they are shatterproof & reusable! Achieve elegance and sophistication with our Plastic Colored Wine Glasses Set of 6!

If you love your wine and want a glass that will last, then these beautiful reusable wine glasses are a must-have. Featuring an elegant multicolor design, these cute glasses are perfect for serving wine, and water. juice and other non-alcoholic beverages. Each glass measures 9" in height, has a 2.4" diameter, and a 15-ounce capacity. They're perfect for use at bars and pool parties or on the deck or patio. Perfect for birthdays, weddings, or Christmas gifts and home decor too!

This colored wine glass set is a perfect way to add some pizzazz and fun to your party or celebratory event. Be sure to add these to your next pool party, or outdoor soiree; they're easy to clean after the big day. Whether you're hosting a party or need something to decorate your home with, these colored wine glasses will be perfect. These cups are durable enough to last a lifetime, but also look great as art in your home decor.

Elegant, yet durable and practical, these wine glasses are perfect for use outdoors. They're easy to clean & keep looking great for many years. They have a classic sophisticated look that can be used as serving ware or decorative pieces. The unique design catches attention & brightens up any outdoor event to create the perfect mood. The brightly colored design makes them great for parties, weddings, birthdays & other special events where you want to impress your guests with unique drinkware!