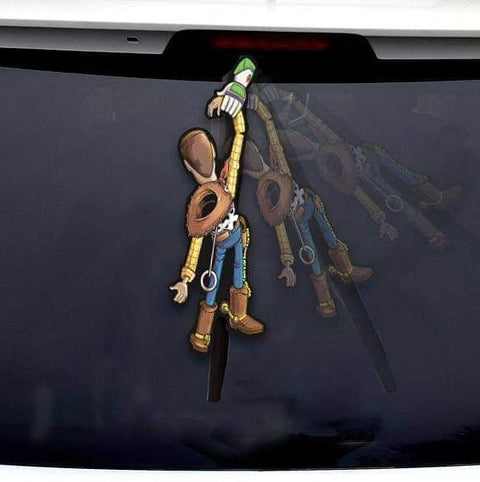 Toy Hang on Buddy WiperTags
DESIGNED FOR TOP MOUNTED WIPERS, this fun design simulates a swinging cowboy hanging on for life as the wiper goes back and forth. This WiperTag is typically not visible when the wiper is turned off if your wiper is hidden when it's turned off. 
Measures approximately 10" x 3.25"
WiperTags are FUN, creative, durable covers that attach to rear vehicle wipers.   
Available in many universal sizes, they're made to fit 99% of all rear vehicle wipers.  Refer to our FAQs for additional info.
Made with 100% UV-protected materials to help prevent fading, cracking, and peeling.
Designed for year-round weather conditions, including sun, rain, sleet, and snow.
Detachable and interchangeable with hundreds of other designs.
Also attach to bumpers, tailgates, or any smooth surface.
Window decals are laminated and UV protected with an easy-peel removable backing to prevent sticky adhesive left on your vehicle (If applicable*)
WiperTags can be made into just about any design, customized for organizations for fundraising, branding, and promotions.  Learn more about custom designs.