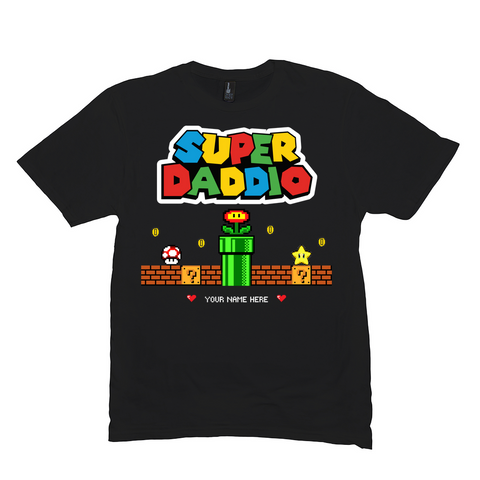 Super Daddio Father's Day Shirt
Introducing the Super Daddio Super Mario Father's Day Shirt: the ultimate fashion choice for dads who are absolute gaming legends! This shirt is a perfect fusion of fatherly greatness and nostalgic pixel perfection.
Imagine your dad strutting down the street, proudly displaying his love for both you and the iconic plumber from Mushroom Kingdom. People won't know whether to ask for an autograph or challenge him to a round of Mario Kart!
But wait, there's more! With our customizable feature, you can add your dad's name to the shirt, making him feel like the true hero he is. The envy of all dads at the next family gathering? Absolutely!
Made from a special blend of cotton and stardust, this shirt offers maximum comfort and magical powers. Well, not really magical powers, but your dad will feel invincible as he jumps over any obstacles life throws his way.
Caution: Side effects of wearing this shirt may include sudden outbursts of nostalgic gaming stories, spontaneous Mario sound effects, and an uncontrollable urge to stomp on imaginary Goombas.
Whether your dad is a master of the Mushroom Kingdom or just enjoys a good old-fashioned gaming session, this shirt is the perfect Father's Day gift to level up his wardrobe game. Super Daddio Super Mario Father's Day Shirt: for the dads who deserve a 1-Up in style and an extra life of laughter.
Customization: Please provide a name below, and we'll make sure it's emblazoned on the shirt to make him feel like the ultimate Super Dad!