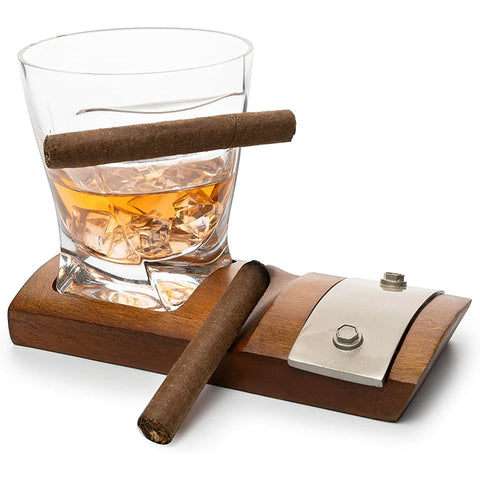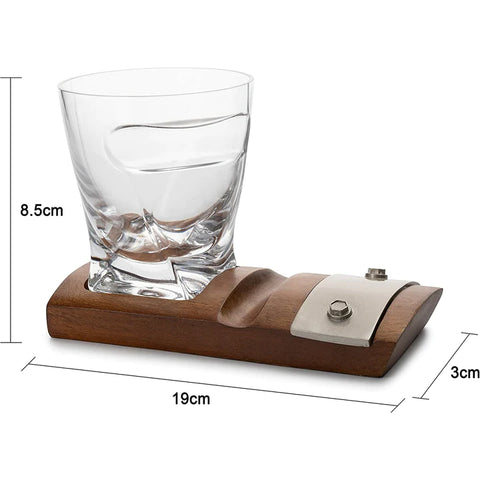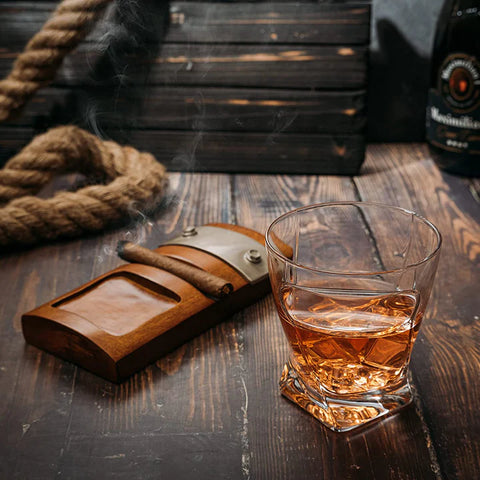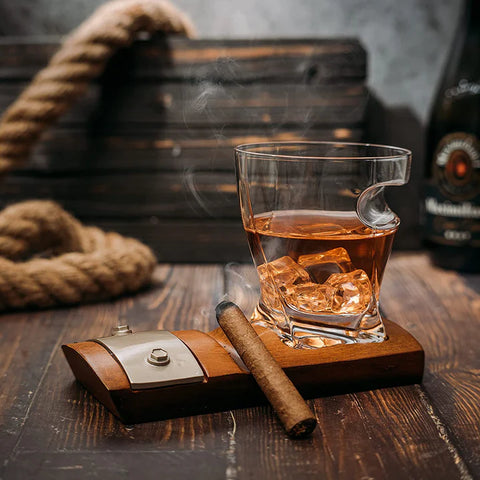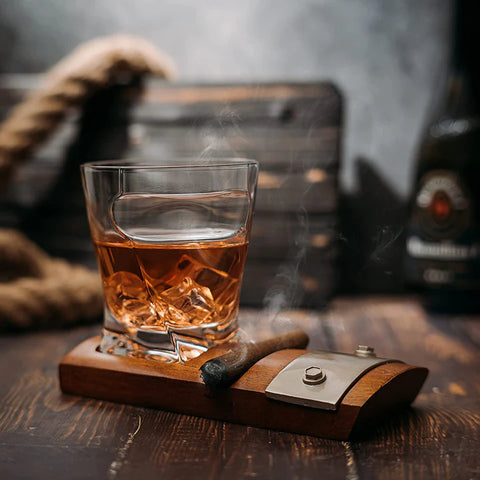 Cigar Glass & Coaster & with A Whiskey Cigar Glasses
Enjoy a nice cigar and a glass of your favorite whiskey with this single cigar coaster and glass set. Protect your most prized cigars with this handsome Whiskey Glasses and Coaster Set. The coaster has a shallow basin to rest your cigar, while the glasses have a unique shape that fit the curve of a stogie perfectly. Keep your cigar upright and ready to smoke with our cigar coaster set. Whether you're entertaining or relaxing at home, this set of two is a no-brainer addition to your man cave.

The Cigar Coaster with Whiskey Glasses Set by The Wine Savant is a great gift for any cigar aficionado. This simple, yet elegant piece of functional art is made of mahogany wood, and allows for you to rest a cigar on the coaster as well as on your glasses! The coaster comes with a fine glass, designed to hold your drink in place while you smoke and to display any cigar. The coaster has a recessed area for a whisky glass that is included with this set.

This Cigar Coaster Whiskey Glass Set is a great gift for the cigar aficionado and whiskey connoisseur. The coaster provides a perfect platform for your glasses. Made of high quality mahogany, this coaster has a natural design that complements most decors. Allow your guests to enjoy their drinks while showing off their style! If you're a serious cigar aficionado and enjoy a nice whiskey, this is the perfect prop for your next social gathering.

This cigar coaster and whiskey glass set by The Wine Savant is designed to help you enjoy the finer things in life. Treat yourself to a glass of whiskey or other spirits, while keeping your cigar horizontal & secure on its coaster. Start the party with this cigar coaster and glass set by The Wine Savant! The coaster sets elevate your cigar off of any surface and adorns any room with its exquisite aesthetic.

The Wine Savant is proud to present the Cigar Coaster with Whiskey Glasses Set, a gift that will complete any cigar aficionado's collection. Ever find yourself with a smoke and a drink, but not a way to safely rest your glass? Your favorite beverage sits together in one place, this coaster set comes complete with a beautiful non-slip coaster and a sleek cigar holder perfect for any cigar enthusiasts. This perfect combination makes for the ultimate after dinner drink.