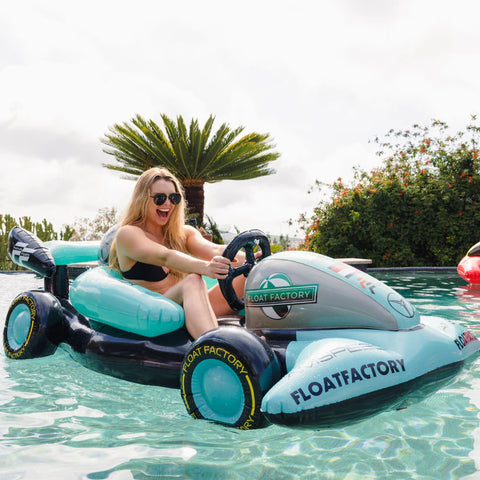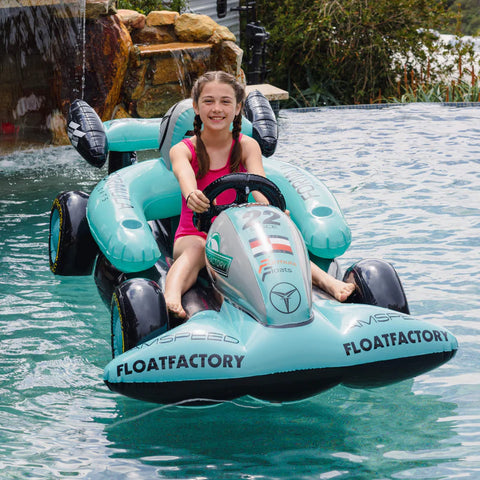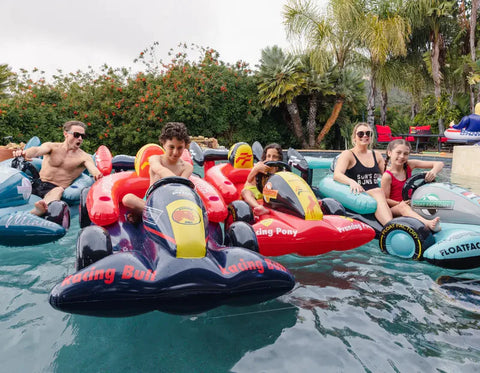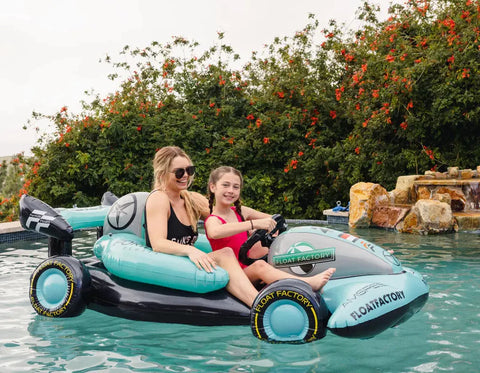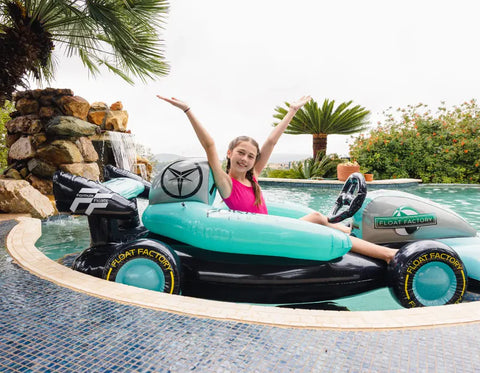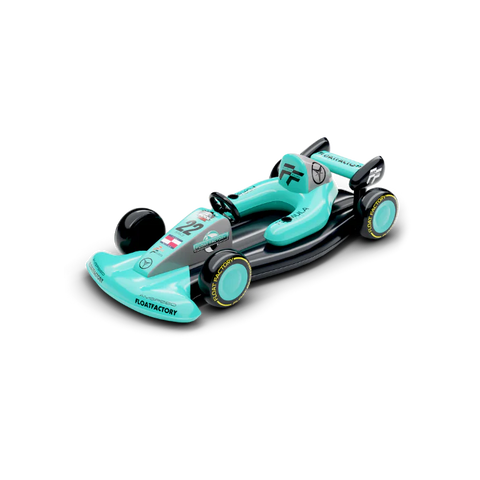 AMSpeed Formula by Float Factory
The AMSpeed is designed for the modern, sleek, and those who want to press the boundaries of the water. The presence of the AMSpeed is unmatched with it's 10:1 scale of a real Formula race car gives you a true water racing experience.
WIND-POWERED RACE CAR POOL FLOAT:
Be the frontrunner on pool day! Featuring a sleek and totally unique wind-powered design, now you can literally leave your pals in the dust. Level up your pool game and make a new kind of splash with the AMSpeed Formula Float by Float Factory!
ICONIC DESIGN & ULTIMATE FUN:
Each formula float is inspired by the most iconic racing teams of Formula One. Though not included, each float comes ready to use with a port for a hydro-fan motor enabling you to race across the water with multidirectional steering of up to mph and a range of 100 yards and powerful enough to move two drivers at the same time. 
DURABILITY AND  PREMIUM QUALITY:
Made from premium grade, 30mm vinyl, and featuring F-force wheels for the ultimate stability while racing. Your Float Factory floatie is sure to make it past the finish line and beyond! Built to outlast even your wildest pool car meets, our Formula Floats are incomparably durable and rigorously tested to withstand pressure and high heat so you can skip the pit stop and float on!
UNMATCHED DESIGN: Featuring a back support, armrest, cup holder, and a steering wheel, give your chill time a boost with a cool and comfortable Formula Float. Generously sized with a 300lb capacity, yet lightweight enough to easily maneuver, now everyone can keep calm and float on with this giant pool float. And with three different eye-catching color options, there's a formula float for everybody! Designed for ages 5+.
INNOVATIVE, FUN POOL FLOATIE:
Lame lay-flat pool loungers and boring inner tubes are for the scrap yard! Get yourself an inflatable pool float for adults and kids by the premier maker of giant pool toys and floaties, Float Factory.
 FAQ

What is the recommended age for Float Factory floats?
We recommend Ages 5+ & up. Float Factory floats are not a life saving device. Do not leave children unattended while in use.

What is the weight capacity for Float Factory floats?
 The Float Factory floats can hold up to 300lbs. or 136kg.
Are there special maintenance requirements?
Your float with last for several amazing experiences with proper maintenance. After each use, please remove from the water and rinse with fresh water. Ensure float is completely dry. Deflate until flat, fold and store for your next float experience. Store your deflated Float Factory float in a cool, dry place with no UV exposure to protect against sun damage.