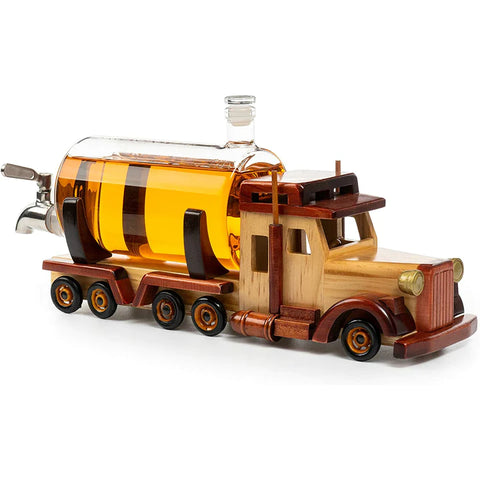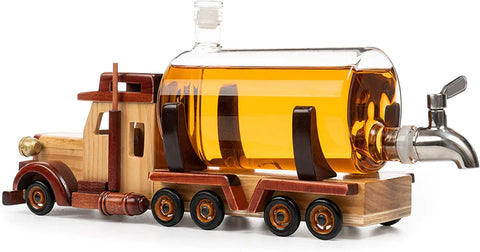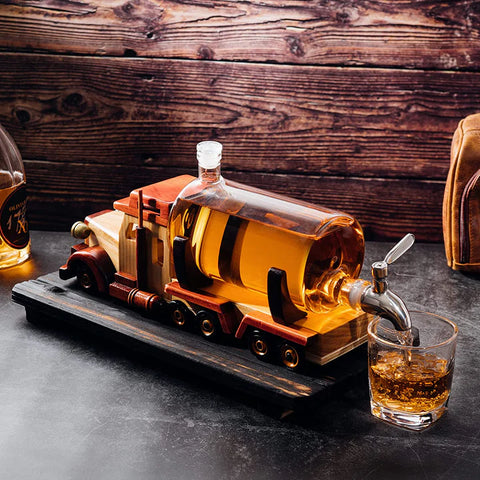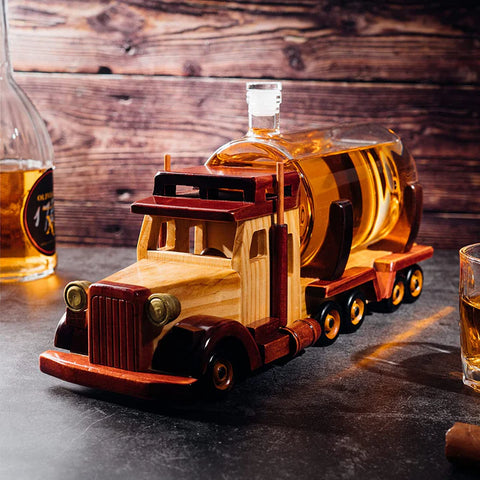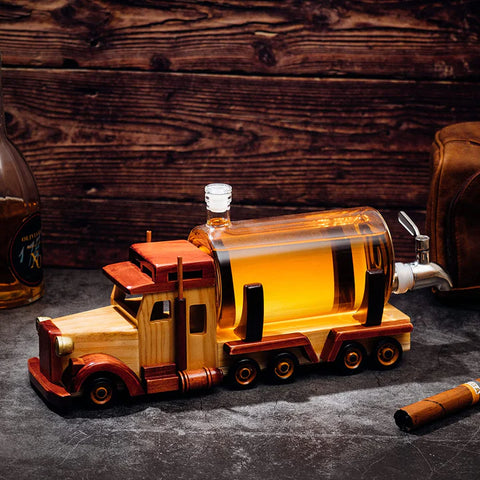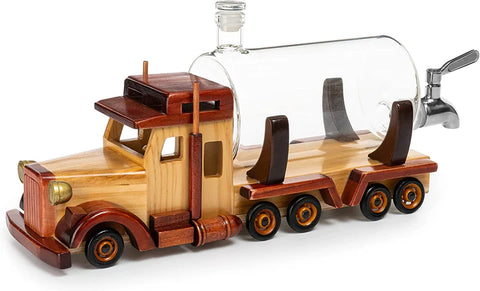 Trucker Whiskey Decanter
A must have for every trucker, construction worker or even just for casual collectors! The wooden body is accented with intricate details, and encases a hand-blown glass whiskey decanter in a barrel shape that holds a full 1000ml ounces of your favorite spirit. Carry this gorgeous wooden truck, made with European styling, around your home and dispense whiskey into your glass. The barrel-shaped decanter adds instant class to any whiskey connoisseur's home bar.

We live in a time where your taste in whiskey is as important as your taste in the vessels that hold it, and the Truck Whiskey Decanter makes sure you can have both. The Truck Whiskey Decanter pays tribute to the American trucker and features a barrel-shaped glass decanter. This piece is sure to add character to your favorite bottle of whiskey, bourbon or scotch, as well as make an interesting conversation piece on the bar or coffee table.

The Truck Whiskey Decanter is your ticket to a truly unique drinking experience. You'll have the coolest home bar in town with this unique decanter perched right atop your favorite table. Handcrafted of the finest hard woods, it features a solid mahogany truck cab that supports the barrel. This functional work of art is sure to make every drink a special occasion.

Made of solid mahogany and featuring a classic, old-time truck silhouette, this whiskey decanter will put some fun back into your drinking routine while also increasing your favorite liquor's shelf life with its air tight seal. And don't worry about spills or messes, this truck is designed to hold up under pressure. Measuring at 18" in length and approximately 6" in height and holds 1000ml of your favorite spirit. You are the driver of life, and this truck's for you!

For the budding trucker or truck driver in your life, our Truck whiskey decanter will wow them with its vintage design. Featuring the old school trucker form from the early days of country roads and long hauls, this decanter is exactly what any old-fashioned trucker needs to pour themselves a drink. Fill up their barrel with your favorite bourbon, rye, or scotch to make them feel more at home!