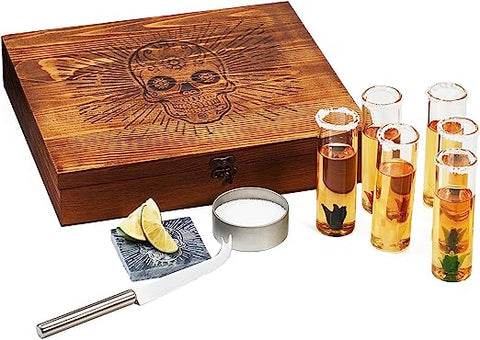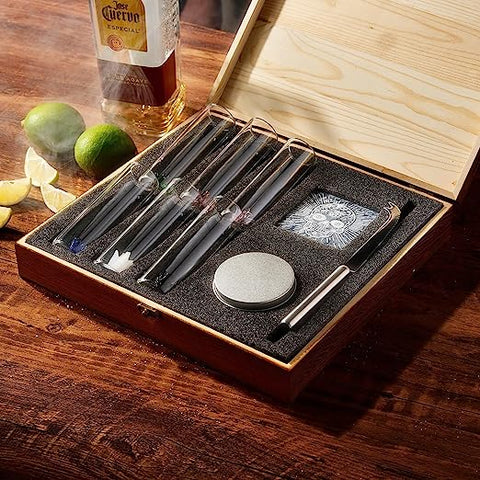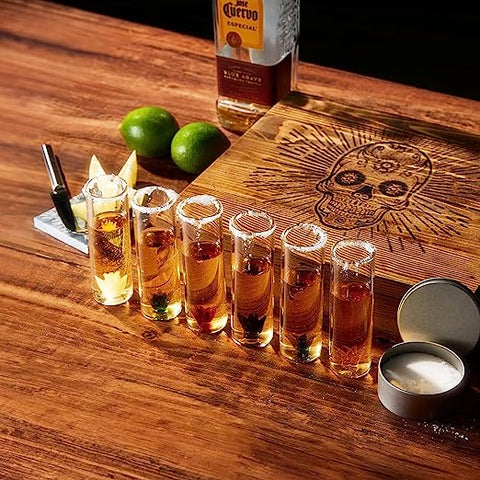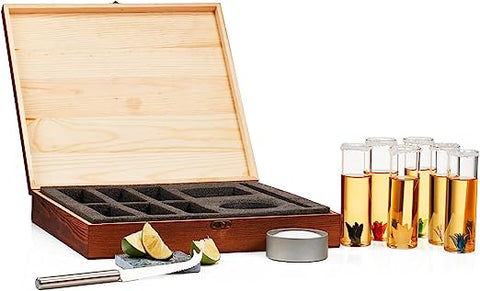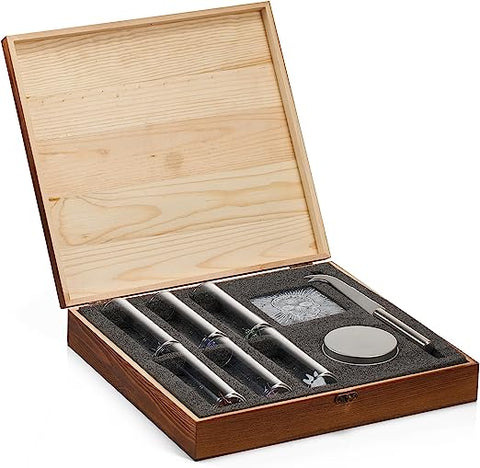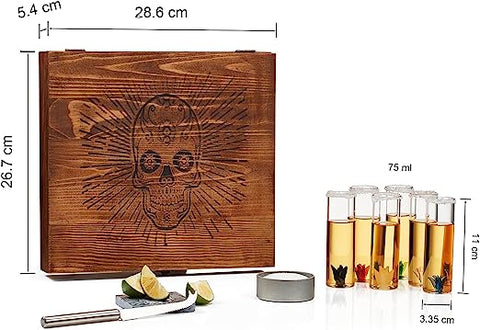 Tequila Shot Glass & Salt Gift Set
Introducing the Skull Tequila Gift Set, a captivating and comprehensive collection that encompasses everything you need to elevate your tequila tasting experience. This set is designed to impress, featuring all the essentials in a beautifully crafted wooden skull box. It is the ultimate gift for tequila and liquor lovers, offering both functionality and style.
Included in this gift set are six agave shot glasses, carefully crafted to enhance the tequila tasting experience. Each glass is designed in the shape of a skull, adding a touch of intrigue and uniqueness to your drinking ritual. These shot glasses not only serve as functional vessels but also become conversation starters at any gathering.
To complete the set, a knife is included to cut up fresh limes, ensuring you have the perfect citrus accompaniment for your tequila. A tin of salt is also provided, allowing you to rim your shot glasses for the classic salted rim experience. Additionally, a skull-shaped coaster is included to protect your surfaces while adding a stylish touch to your tequila presentation.
The beautifully crafted wooden skull box not only serves as a storage and presentation case for the set but also adds a striking visual element to your bar or countertop. Its intricate detailing and skull-shaped design make it a captivating and decorative piece. Displaying this box will undoubtedly pique the curiosity of your guests and spark engaging conversations about tequila and its cultural significance.
Whether you're hosting a tequila tasting session or simply enjoying a margarita with friends, the Skull Tequila Gift Set provides all the necessary tools to create a memorable drinking experience. Its thoughtfully curated contents, including the shot glasses, lime knife, salt tin, and coaster, ensure that you have everything you need for a delightful tequila ritual.