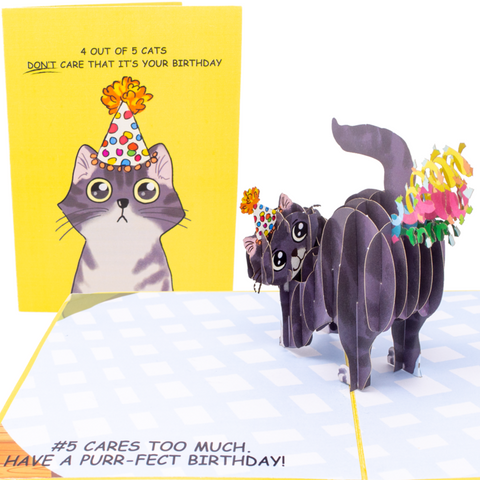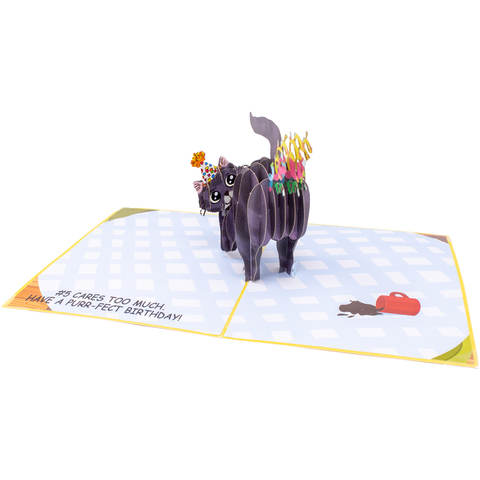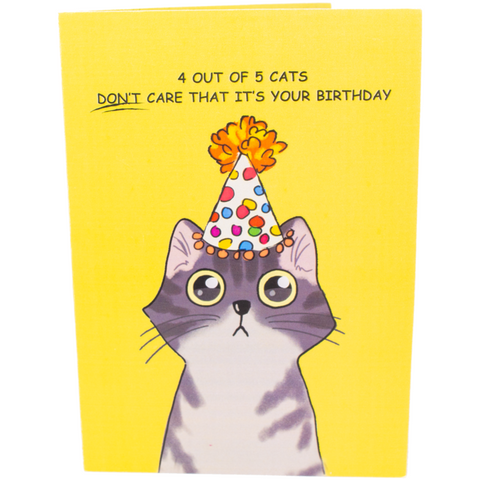 Purrfect Birthday Funny 3D Cat Greeting Card
This cat needs a diapurr right meow.
Our hiss-terical pop up birthday card, Purrfect Day, is a cat lover's weirdest dream come true. The front cover features a doe-eyed puss marginally interested in celebrating yet another birthday. It reads, "4 out of 5 cats don't care that it's your birthday." The inside of the card continues, "#5 cares too much. Have a purr-fect birthday!" This is where an enthusiastic 3D feline shows love the only way it knows how—by lifting tail and showing off its a**hole. Cat people know. Get a big laugh with this hilariously offensive birthday card.
9 out of 10 agree: It's better to clean up confetti farts than tug clumpy rubber bands out their back door.

Perfect Occasions:
Funny birthday cards for cat lovers & ladies, hilarious gag gift birthday cards for husband/wife, best impolite 3D joke greeting cards for boyfriend/girlfriend, happy fucking birthday for her/him, and more.

What's inside:
Card size: 5" x 7" (13cm x 18cm)

Envelope size: 5" x 7" (13cm x 18cm)

Note card for handwritten message: 4" x 6" (10cm x 15cm)

Front cover: Text - "4 out of 5 cats don't care that it's your birthday."

Inside of card: Funny pop up cat farting confetti with text, "#5 cares too much. Have a purr-fect birthday!"