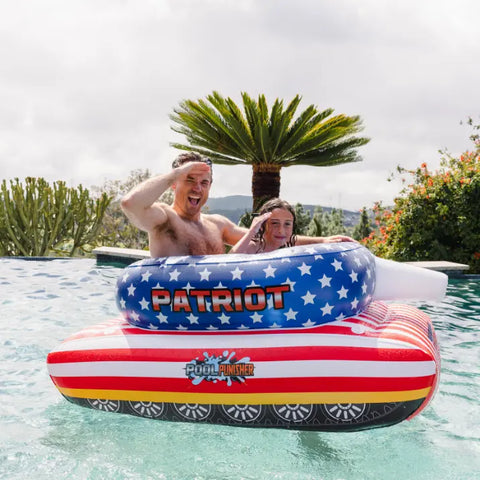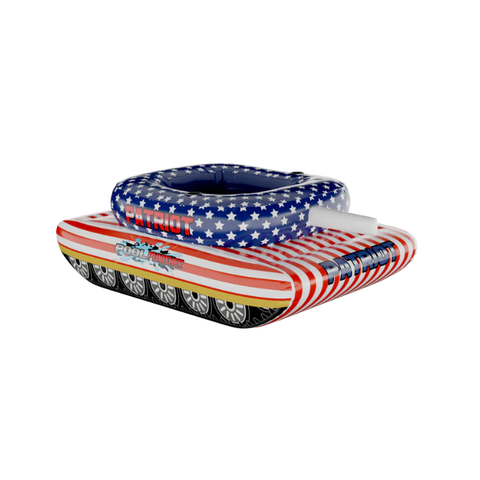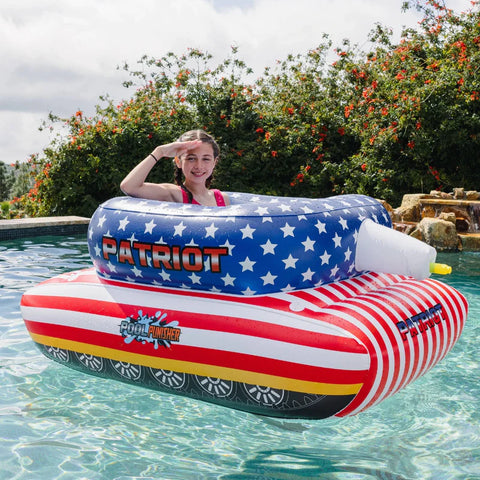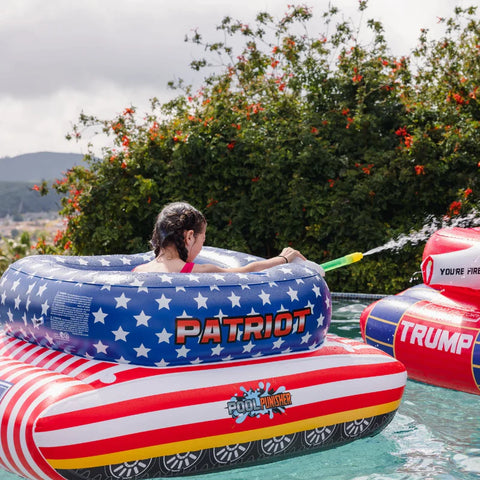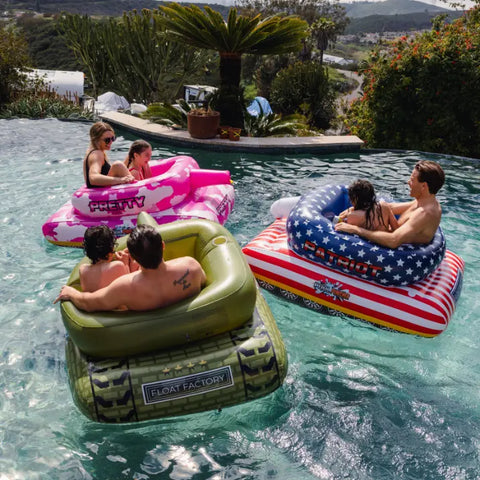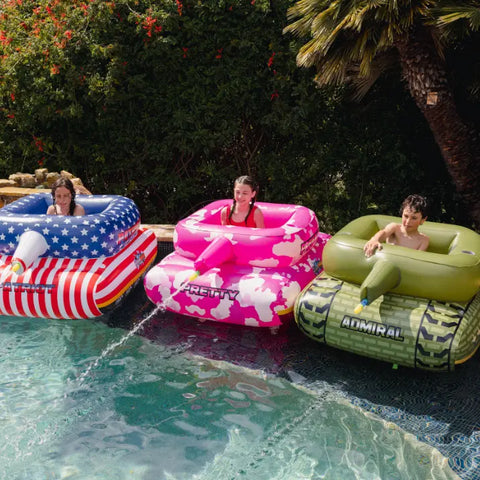 Patriot Punisher + Water Cannon by Float Factory
"The Boss" of the water. The Pretty Punisher, though beautiful to look at, is fierce when it comes to water warfare. The unique camo design lets you blast your opponents when they are least expecting and take your place on your throne in the water.
PATROL LIKE A LADY BOSS: Punish in pink with the all-new Pretty Punisher Inflatable Pool Float by Float Factory. This enormous military-inspired floatie is complete with a fully functional water cannon and is ready to help you step into your prepossessing power! Show 'em who's boss… but make it pretty, with the Pretty Punisher!
BETTER BLASTER:
Blast water up to 50 feet with our strongest, most durable built-in blaster yet! No filling required, the pump pulls ammo directly from the water below to ensure that you're always locked and loaded!
MASSIVE YET MANEUVERABLE:
Experience pool patrol like never before! Easily maneuverable for water travel, and featuring an improved raised seat, reign from your giant pool float like the boss-babe you are! Spacious enough for two adults or multiple kids, and with a capacity of up to 300 lbs, team up and pile in for the ultimate play in pool domination! 
DURABILITY AND DESIGN
Made from military grade 30 mm vinyl military grade vinyl for unsurpassed durability and rigorously tested to withstand pressure and carefree use, our Punishers are the only giant pool floaties that are truly built to last while still being lightweight enough for little ones to steer and maneuver. The Pretty Punisher also comes complete with built-in cup holders and tie-ups, and the box includes your very own bullseye! Target practice, anyone?! Floatie for adults and kids; recommended for ages 5 and up!
FLOAT LIKE A LADY BOSS
Ditch the deflated unicorns and over-dunked doughnut pool loungers for a floatie that pummels the rest. Level up your pool game by dipping into the ultra-original, pink camo cannon for unmatched fun in the soldierly sun. Dominate the pretty way with the Pretty Punisher by the premier purveyor of epic pool toys, Float Factory.
WHAT'S INCLUDED:
Pretty Punisher
Punish Pumper
What is the recommended age for Float Factory floats?
We recommend Ages 5+ & up. Float Factory floats are not a life saving device. Do not leave children unattended while in use.

What is the weight capacity for Float Factory floats?
 The Float Factory floats can hold up to 300lbs. or 136kg.
Are there special maintenance requirements?
Your float with last for several amazing experiences with proper maintenance. After each use, please remove from the water and rinse with fresh water. Ensure float is completely dry. Deflate until flat, fold and store for your next float experience. Store your deflated Float Factory float in a cool, dry place with no UV exposure to protect against sun damage.