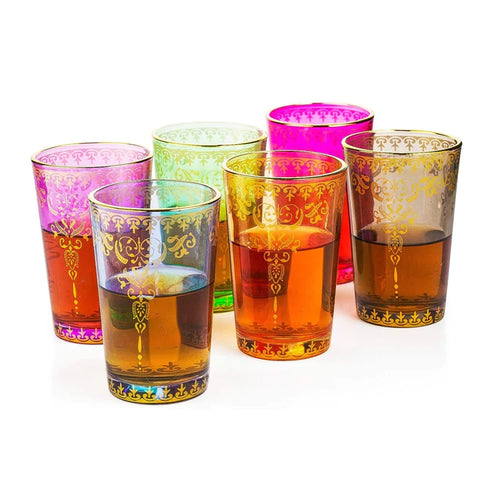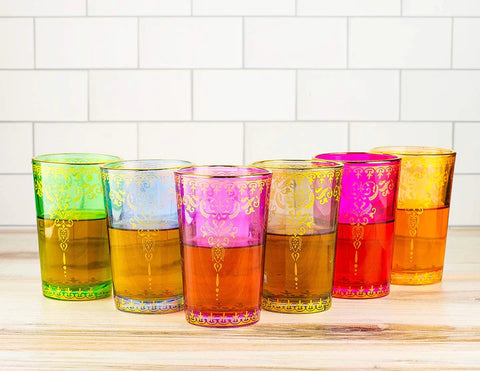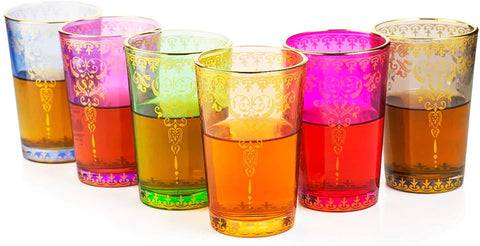 Hand-Made Moroccan Artisan Glasses
MOROCCAN GLASSES: In Morocco, the rituals of serving and drinking tea with loved ones are a sacred past-time. The cultural significance of tea brings family and friends together for bonding. This is what inspired this creation

MULTI-PURPOSE: Perfect and Elegant for Tea, Coffee Or Juice

SET OF SIX: A gorgeous set of six bright shades and beautiful accents are inspired by the tones of Moroccan flora.

HAND-MADE: Each glass was handmade to perfection, support hard working masters which blow each individual glass, it is then passed along checked for safety and hand painted with a glowing paint, made to sparkle and shine any elegant table, gathering , or occasion

GIFT SET: These Wine Savant's Glasses make a wonderful gift for the Holiday Season, Valentines Day, Mothers Day, Birthdays, Anniversaries, and more. Additionally, they are an incredible fit for dinner parties and everyday use. This set will make one stand out- guests won't be able to resist talking about it long after they're done drinking.