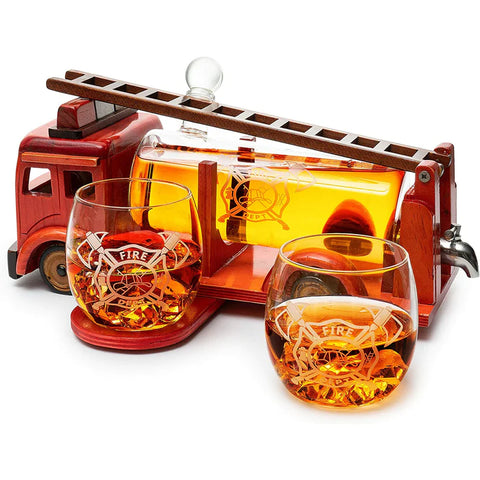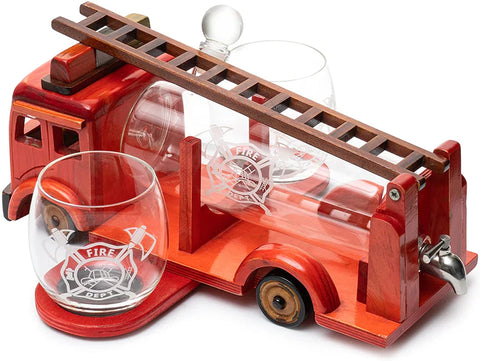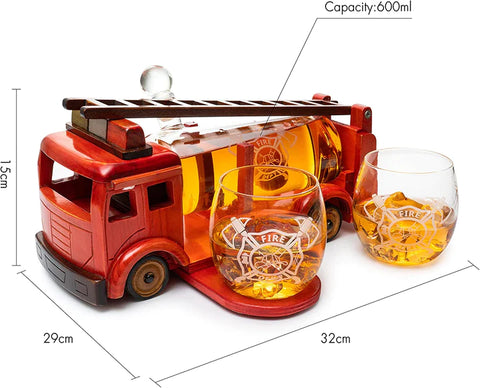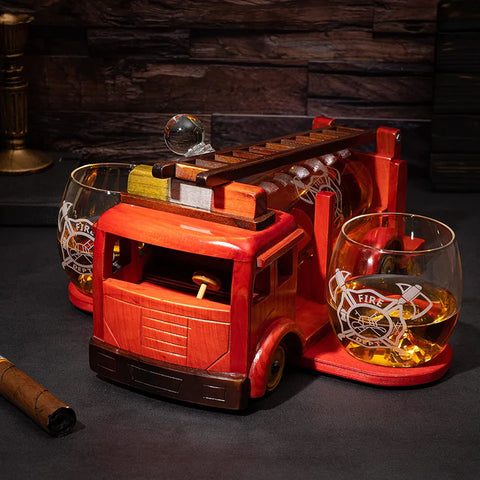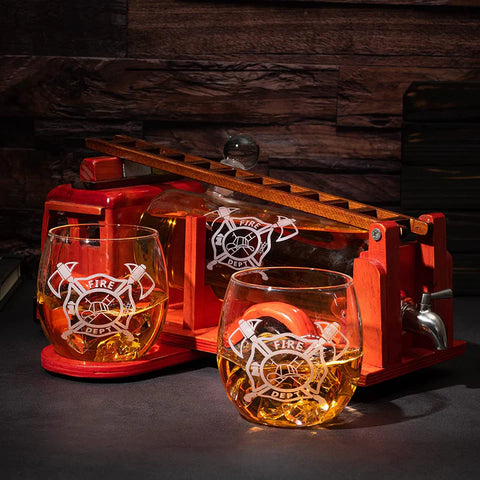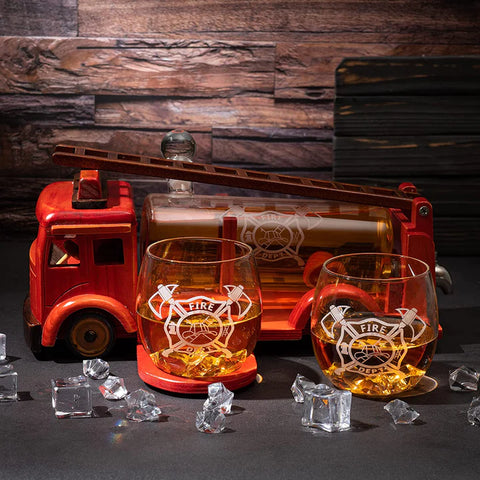 Firetruck Decanter
$228.91
$244.18
you save $15.27
From the tip of the ladder to the wheels of the truck, The Wine Savant is proud to present the firetruck decanter set. Inspired by one of the oldest and bravest professions in our country. Crafted from borosilicate, this decanters feature a flat-bottom design and comes with 2 12 oz fire department glasses! Add a dash of firehouse style to your bar with this glass whiskey decanter set, beautifully handcrafted by The Wine Savant to depict a retired, vintage Firetruck pumper truck.

Fill and serve with confidence, with the Firetruck Whiskey Decanter Set. This handsome decanter is a fun and personalized way to enjoy your favorite whiskey, bourbon or scotch.This thoughtful gift will be cherished by any firefighter or fire fighter enthusiast! Measures 13" in length, 12" in width, 6" in height and holds 600 ml of your favorite liquor!

Add a unique touch to your whiskey drinking experience with this Firetruck Whiskey Decanter Set. Each set includes 2 etched fire department whiskey glasses and a decanter that is shaped like a barrel, perfect for making a statement on the cabinet or in the man cave. Each glass is etched with a firetruck department logo on it. Delight your Firefighter friend with this perfect decanter and 2 glasses!

For any function where a festive mood is key-whether it's to attend a dinner, dinner party or cocktail party-this Firetruck Whiskey Decanter Set by The Wine Savant is the perfect accessory. A fun, modern and sturdy design brings a great piece of practicality to you today. The perfect addition to any firefighter's home bar that will make toasting evermore special! An elegant way to help you celebrate a special occasion or just to enjoy the casual drink with friends and family.

You'll feel like you're at the Fire station! Perfect for the fireman and firewoman in your life these are a unique way of serving whiskey. They make a great gift for the home or office to display. The centerpiece is a hand-blown glass sculpture of a classic red fire truck, and is the ideal way to display your favorite spirit.