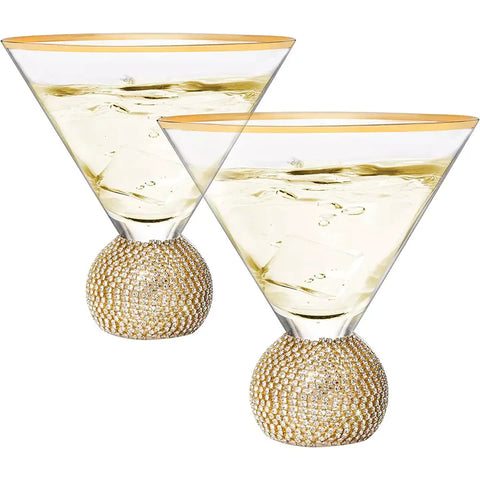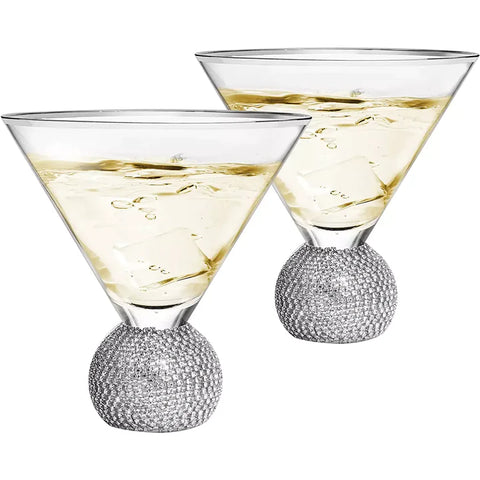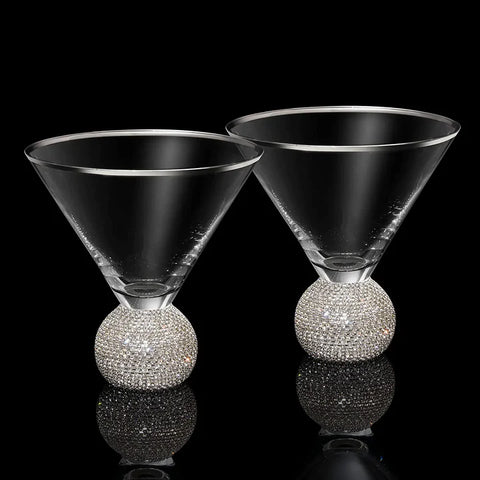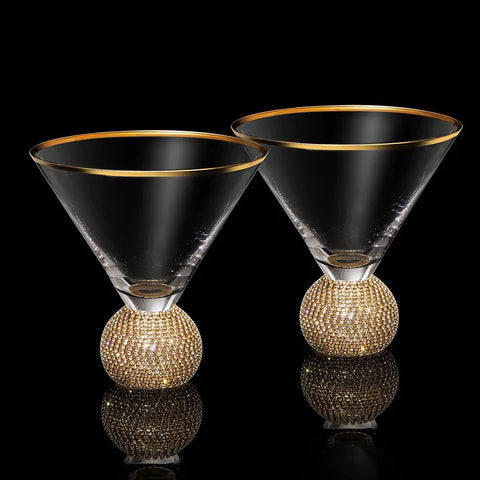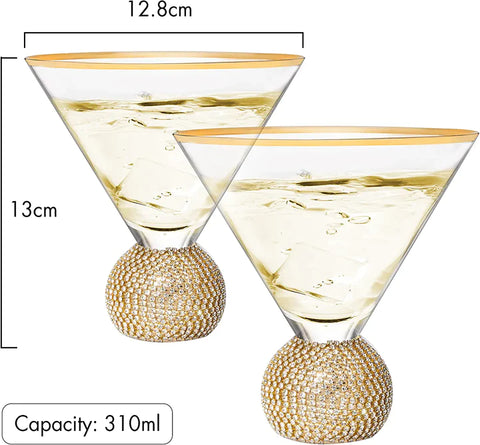 Crystal Ball Stemless Martini Glasses
Amp up the luxury of your drinking experience as you sip away with this set of two glasses that are pieces to admire. Featuring a statuesque look, these glasses making drinking not only a unique experience but a lively affair. Our fun and fancy stemless cocktail glass set bring cheer and sparkle to celebrations of all types; The unique design is always in style for toasting; Savor and sip your Martini tastings in our Gold & Silver Crystal Ball Stemless Martini Glasses.

Celebrating life's special events is easy with this pair of elegant drink glasses. The diamond cut on the gold ball base adds a festive touch to any engagement party, wedding, or girls' night out. Handmade and mouthblown of the highest quality by master artisans. A very special and extravagant way to sip your martini! The striking display is emphasized by the gold crystal ball! These glasses have a contemporary and shiny look that is utterly fashionable in any setting.

The Crystal Ball Stemless Martini Glasses are so full of bling & detail and certainly make this set stand out from the rest! These exquisite and fun glasses are masterpiece displays of art and the result of high quality craftsmanship. The Classic V-shape cup with a wide rim and heavy-duty round base make this glassware great for a table decoration, floral centerpiece, olive and condiment bowl, or candy dish; Use for Birthdays, Christmas, New Year's Eve, and all other occasions!

Add rhinestone glam to your home bar cart or restaurant display. Each enchanting glass is crafted with mouthblown and hand-cut glass. Its unexpected and beautiful silhouette reinvents expectations of design and provides endless possibilities for a unique drinking experience. This set of the Crystal Ball Stemless Martini Glasses is both a conversation starter and a work of art.

These Martini glasses are an absolute must for a gift, made for all occasions, and more gorgeous in person than can be viewed online. You will be happy you gave these glasses as a gift. These would make a remarkable wedding present gift, housewarming gift, engagement gift, Valentine gift, anniversary gift, mothers day gift, or any day occasion to celebrate with a loved one!