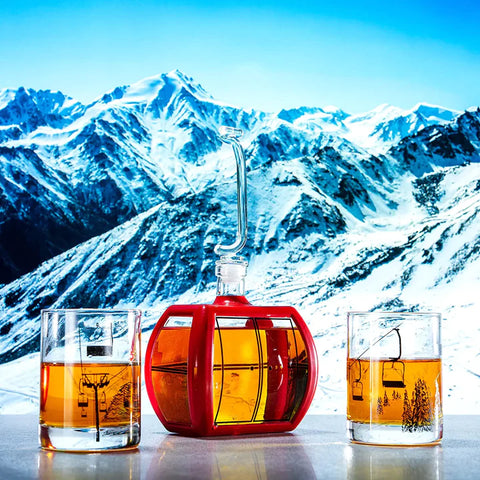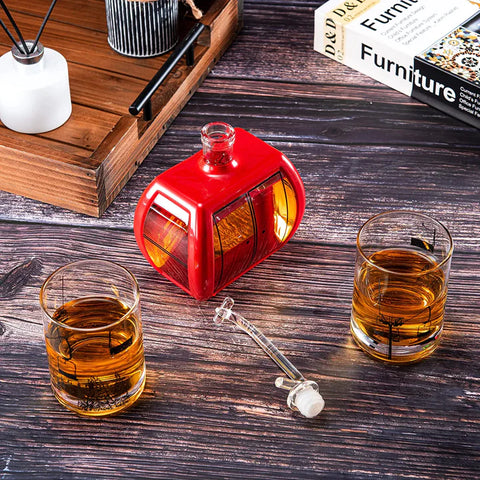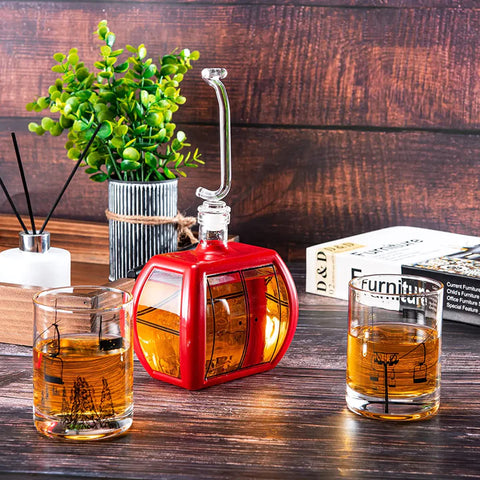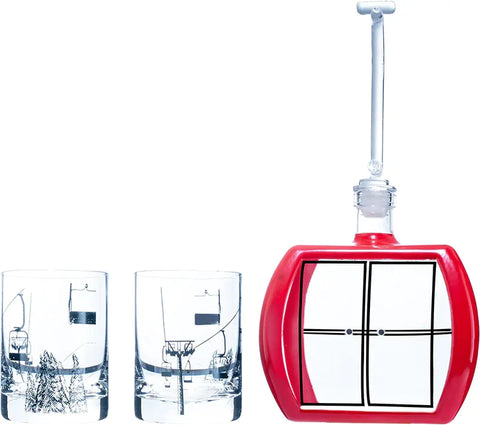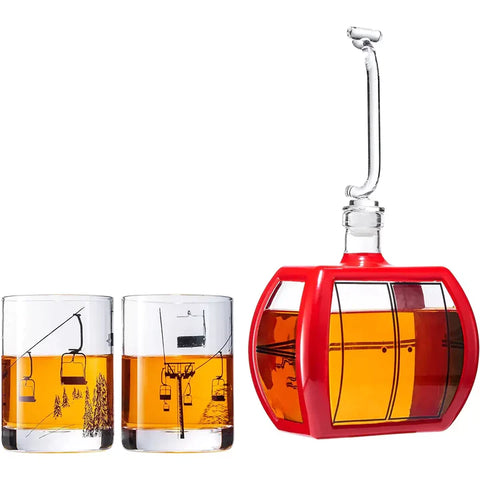 Gondola Decanter with 2 Chairlift Glasses
The Gondola Whiskey Decanter Set will fit right in at any ski/snowboard bar! This gorgeous set is made up of an elegant glass Gondola whiskey decanter, and two Chairlift whiskey glasses. All two pieces have been fashioned after the classic gondola shape that has been seen on mountains for decades! The decanter and glasses both hold up to 34 oz. of your favorite spirit and are ready for your bar cart tonight!

Designed for the avid skier or snowboarder, this decanter set with 2 whiskey glasses will be a great addition to your man cave or bar. Perfect for the snow racer or mogul rider in your life! The attention to detail is amazing in this piece. The decanter gleams with a shiny finish, decorated with a bright red rim and black details, and the glasses are made of solid borosilicate glass with black chairlift details.

Statuesque and sure-footed are just a couple of the perfect words to describe this work of decanter art. Inspired by the classic gondola carts, this handmade 34 oz whiskey decanter features black and red details that bring the gondola to life. Drink away with the Gondola Decanter and Chairlift-Inspired Whiskey Glasses!

Open up to a new world of refined whiskey enjoyment with this Gondola Whiskey Decanter Set. With its heavy-duty, one-of-a-kind whiskey decanter and 2 Chairlift Whiskey Glasses, it's sure to take any occasion from good to great. This gives you the perfect gift for your avid ski bunny or snowboarder! Measuring 4" in length and 10.4" in height.

Stamp your style on your drinks with this elegant Gondola Whiskey Decanter Set! The sleek and intricate design makes it the perfect gift for any wine enthusiast or Bourbon drinker. The decanter pours fast and smooth, ensuring you don't spill a drop. Whether you want to share a toast or enjoy your favorite Bourbon yourself, this decanter is the centerpiece for storing and serving up your drink. Enjoy your favorite whiskey, scotch, bourbon, or even red wine in an elegant fashion!