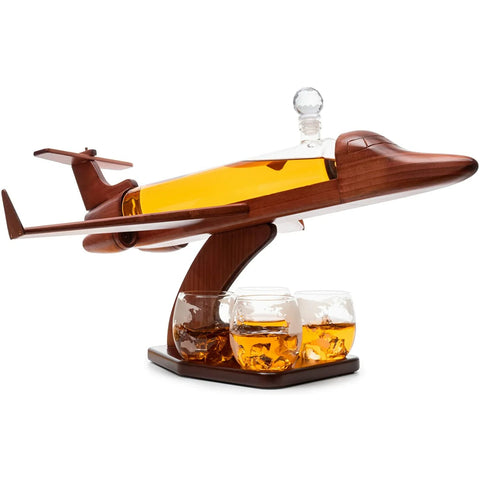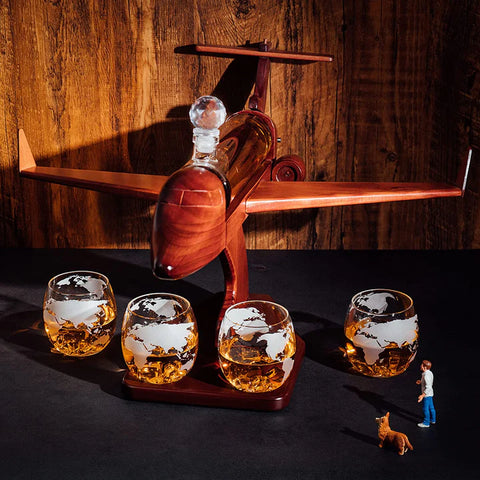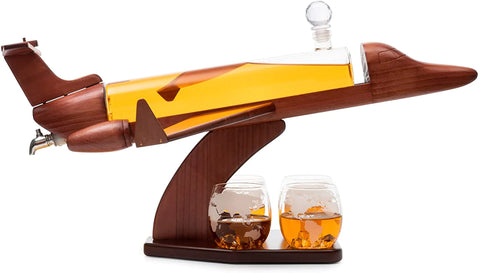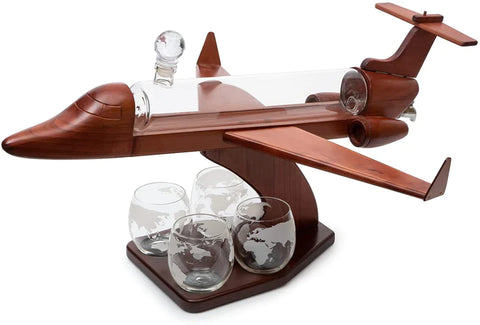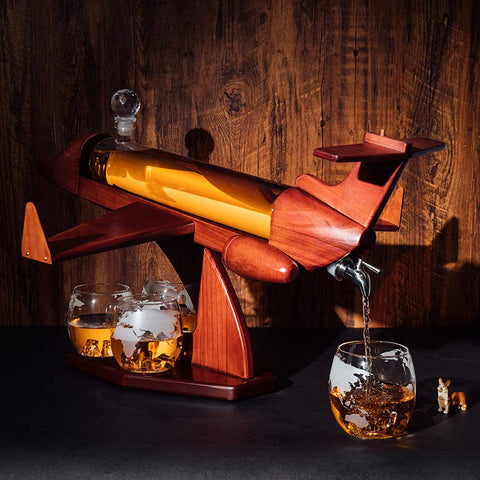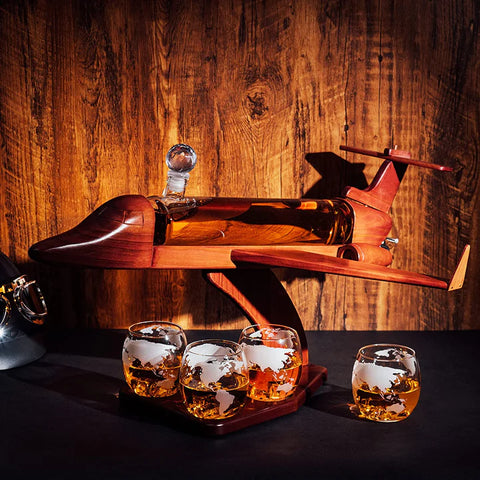 Jet Decanter with 2 World Map Glasses
For travelers, adventure seekers, and whiskey/scotch lovers alike. A beautifully handcrafted reproduction of a vintage passenger airplane with four 12 oz mouth-blown world map glasses. Send your taste buds soaring into the clouds with a smooth pour from our replica of an airplane that's outfitted with an in-flight bar! Featuring hand-made wooden details, and intricate nose and wings, It's the perfect gift for anyone who loves scotch whiskey, adventure, and aviation!

This beautiful, handmade, mouth-blown glass decanter will pay a memorable tribute to your love of travel and adventure–while aging a hearty bottle of scotch or whiskey. The unique airplane shape of this wooden and glass vessel is constructed by experienced artisans. It truly is a highly functional piece of art, combining both decorative beauty and wonderful functionality. A versatile decanter can be filled with your favorite bottle of scotch, whiskey, or other spirits!

Lounge in the airport, or pass your time on an international flight, with a mature scotch or robust bourbon from our Airplane Whiskey Decanter. From the folks who breathe new life into good old-fashioned classic cocktails with its travel bar, comes a decanter that doesn't need an airplane to fly. Built to resemble an airplane, but crafted to adorn any table or home bar. The airplane figurine measures approximately 22" in length, and holds 1000ml of your favorite spirit!

Add some adventure to your drinking with Airplane Whiskey Decanter. This hand-blown decanter will make a great addition to your bar or kitchen, wherever you want to show off your love of travel, adventure, and whiskey/scotch. Made of beautiful mouth-blown glass, this decanter is perfect for aging whiskey or scotch! Paying tribute to your love of travel and adventure, this airplane decanter will ensure that your scotch or whiskey maintains its flavor as you travel the world.

Whether it is the pilot in you or your love for a good Scots whiskey, this plane is a great addition to your home bar. Whether you're gearing up to take a trip, or heading out to your local airport, this airplane whiskey decanter is a superb piece to add to your collection. An ideal gift for air travel enthusiasts, the decanter holds 1000ml of liquid, and features a spout in the back to allow for easy refilling. This item will surely be the focal point of any man cave, home bar, or family room!